Our Fab Mum Mother's Day Card From Child
Regular price
Sale price
£3.50 GBP
Unit price
per
Sale
Sold out
About this Mother's Day Card From Child
If the kids don't feel like drawing a card for Mum this Mother's Day, then this Our Fab Mum Mother's Day card is a great alternative. Featuring a bright and colourful design inspired by the infamous Fab ice-creams, this card will bring a smile to kids and Mum's faces alike. It's so much fun, and is a lovely reminder to Mum of just how fab she is, and how appreciated she is by the whole family. It could even inspire an ice-cream themed Mother's Day celebration - how much fun would that be! A great way to bring the family together and celebrate amazing, fab Mum. The Our Fab Mum Mother's Day card from child is a great way to remind her just how loved she is.
Jess A Little Creative greeting cards are all about creating special family moments that can be treasured forever. Jess draws all her designs from her home studio in Cheltenham, and is constantly inspired by the power of love and kindness, and how it can bring loved ones closer. This Mother's Day, show a little love to Mum and remind her just how fab she is, with this unique and colourful Mother's Day card, which is blank inside for your own special message.
Mother's Day card from child design
This bright and fun Our Fab Mum Mother's Day card from child, has such a fun and quirky design, consisting of 9 hand-drawn squares laid out in a 3x3 grid. These 9 squares each contain a highly patterned, decorative letter to spell out, 'OUR FAB MUM'. This design has been highly inspired by the infamous Fab ice-creams, and so the top 3 squares are brown, the middle three squares are white, and the bottom three squares are pink, to look like the three defined sections of a Fab ice-cream. The letters which sit on these squares use highly contrasting shades of pink, white and brown, so they stand against the bold backgrounds. The brown squares have a patterned background, of brightly coloured dashes, to look like the hundreds and thousands you get on a Fab ice-cream. The white and pink squares featured hand-drawn dots as a background, to add further detail and pattern to the Mother's Day card design. The whole design sits on a light brown background colour, which represents the ice-cream stick, and there are mini Fab ice-cream illustrations dotted around the border to bring the whole design together. A super fun and colourful Mother's Day card that the kids can give to Mum, to remind her how fab she is.
Packaging and materials
Our Fab Mum Mother's Day card, as well as being a pretty fab design, is also made from some pretty fab materials, all as sustainable and eco-friendly as possible. Firstly, the card is printed on thick, FSC certified, recycled card. It is uncoated cardstock, which means it doesn't have a nasty shiny surface, feels lovely to touch, and is great to write on, perfect for your Mother's Day card message you'll be writing inside. It comes supplied with a kraft brown recycled envelope, and is then packaged in a biodegradable clear sleeve made from vegetable starch which will keep your Mother's Day card in perfect condition until you're ready to write it. The sleeve can then go in your food waste bin or on your compost heap at home when you're ready to get rid of it. Finally, your card will be shipped in a fully recyclable, board-backed envelope, plastic-free.
Product details
Blank inside

Card measures 140mm x 140mm

Printed on 350gsm FSC certified recycled card

Supplied with a recycled kraft brown envelope

Packaged plastic-free in a clear compostable sleeve, made from vegetable starch

Designed and printed in the UK

Shipped in a secure and sturdy board-backed envelope
© Jess A Little Creative, all rights reserved.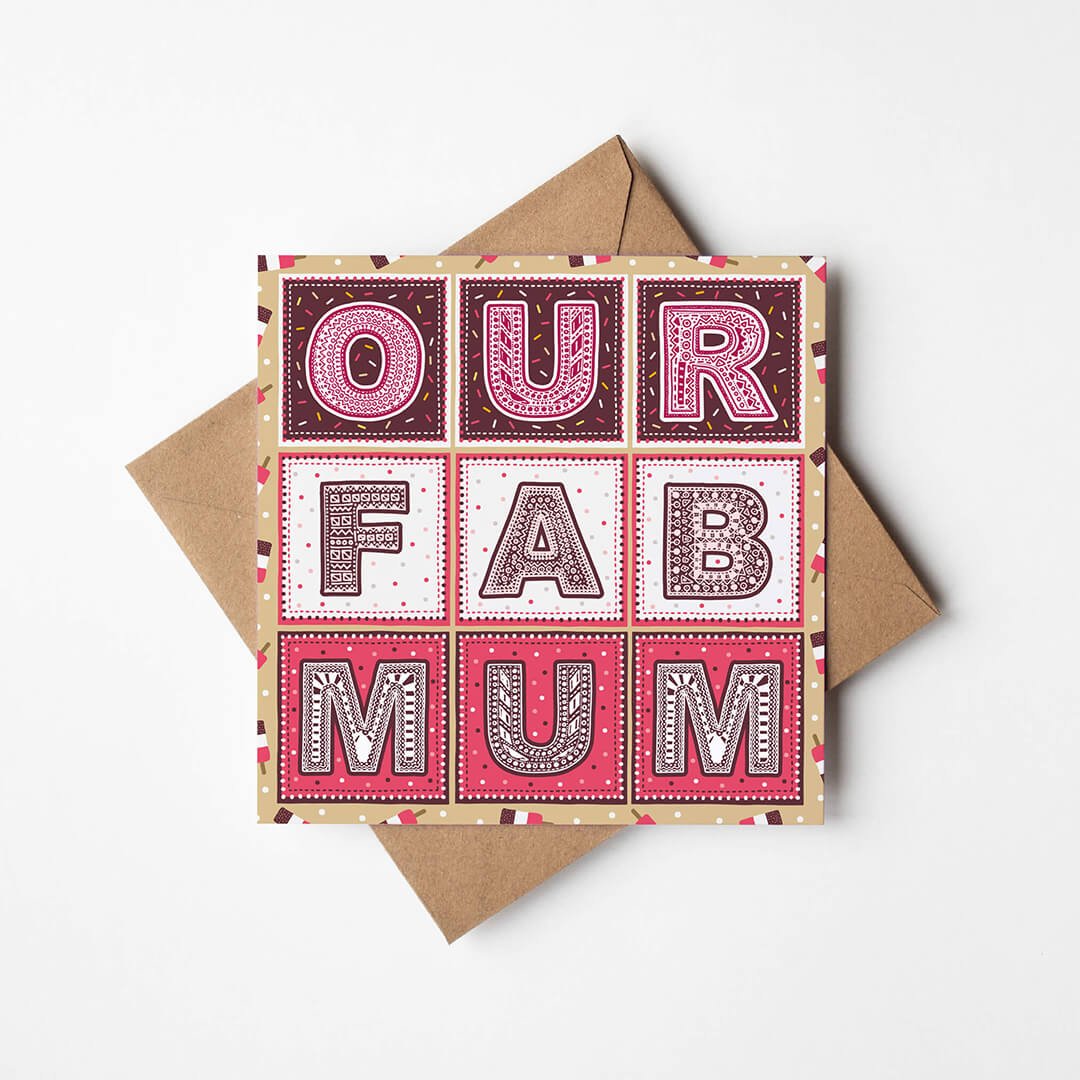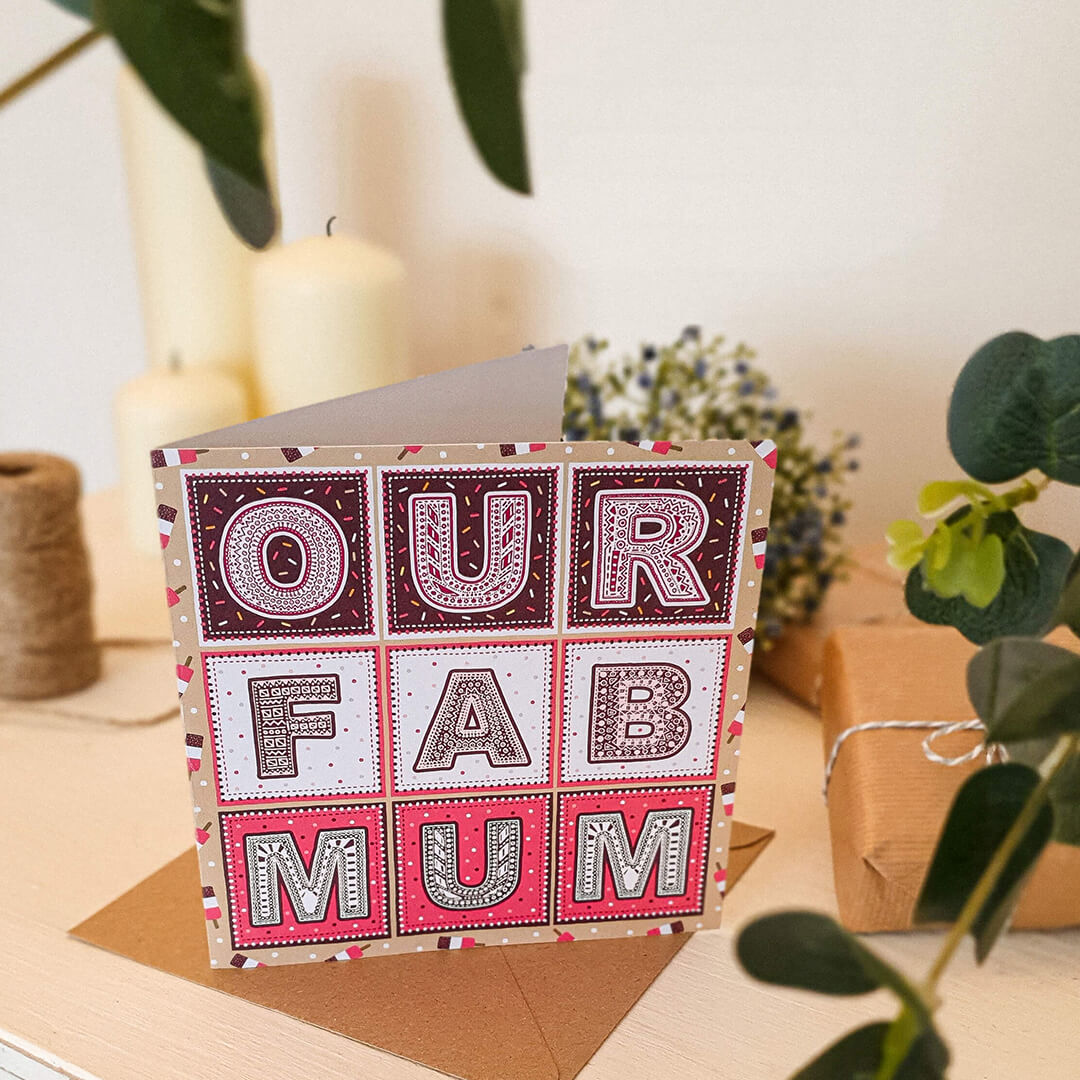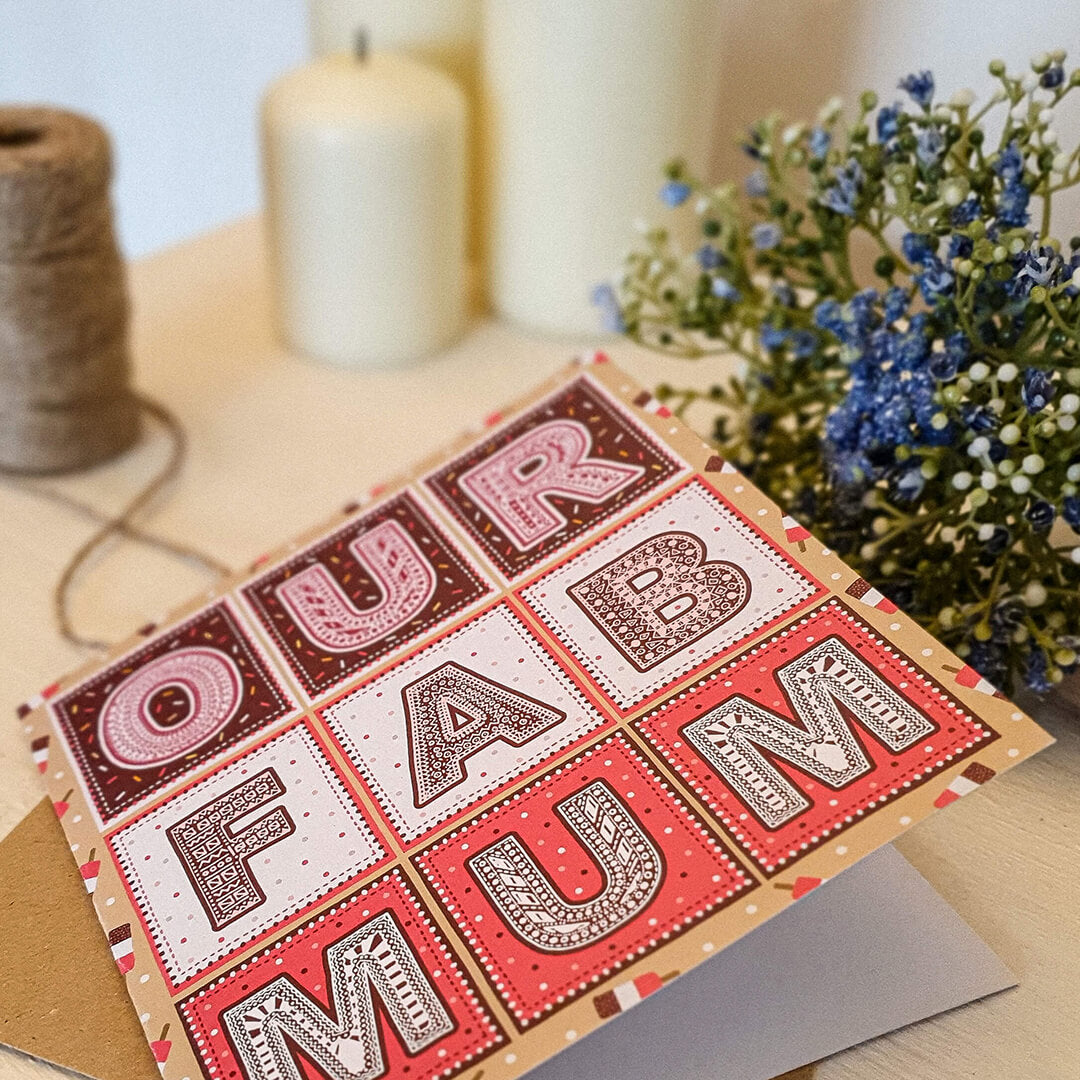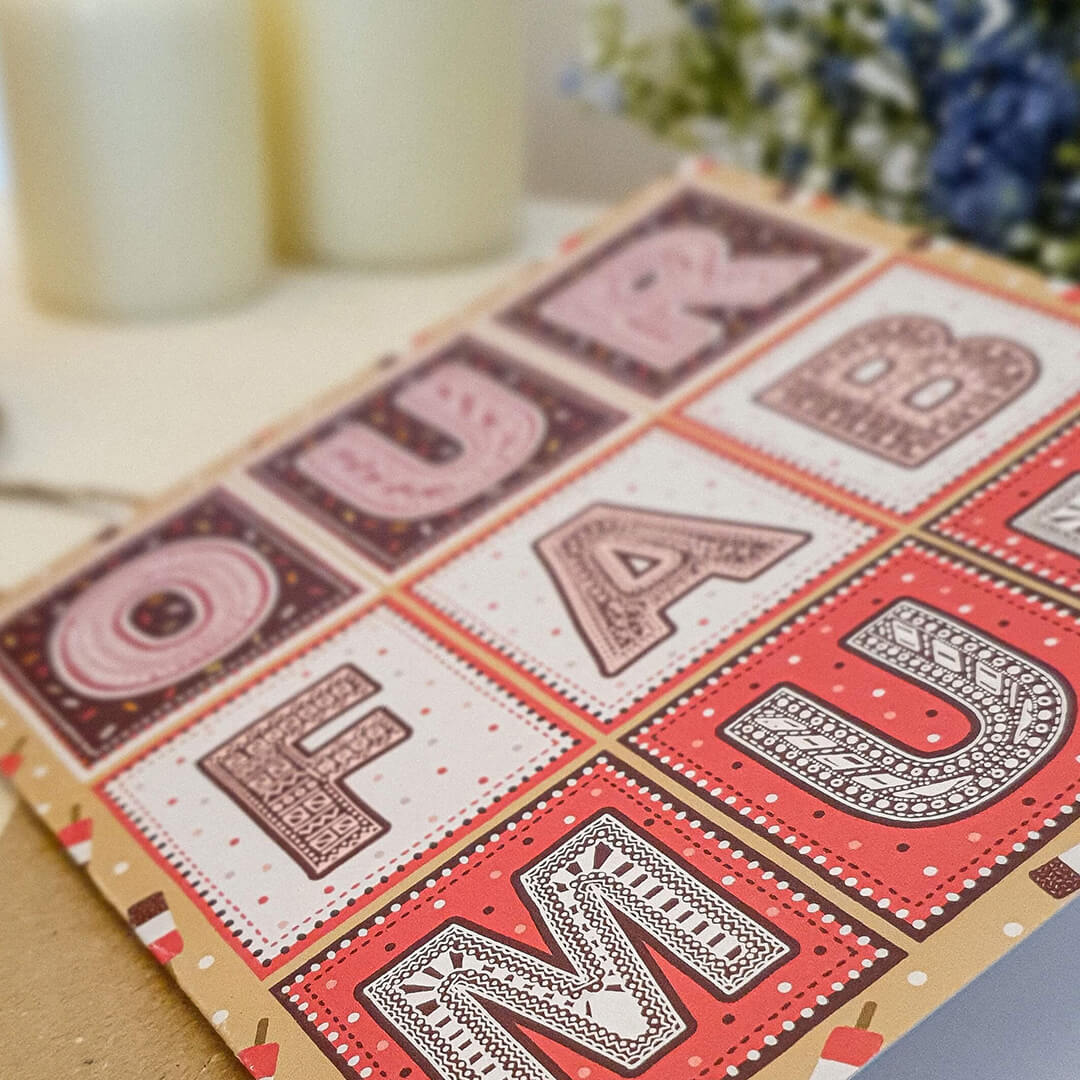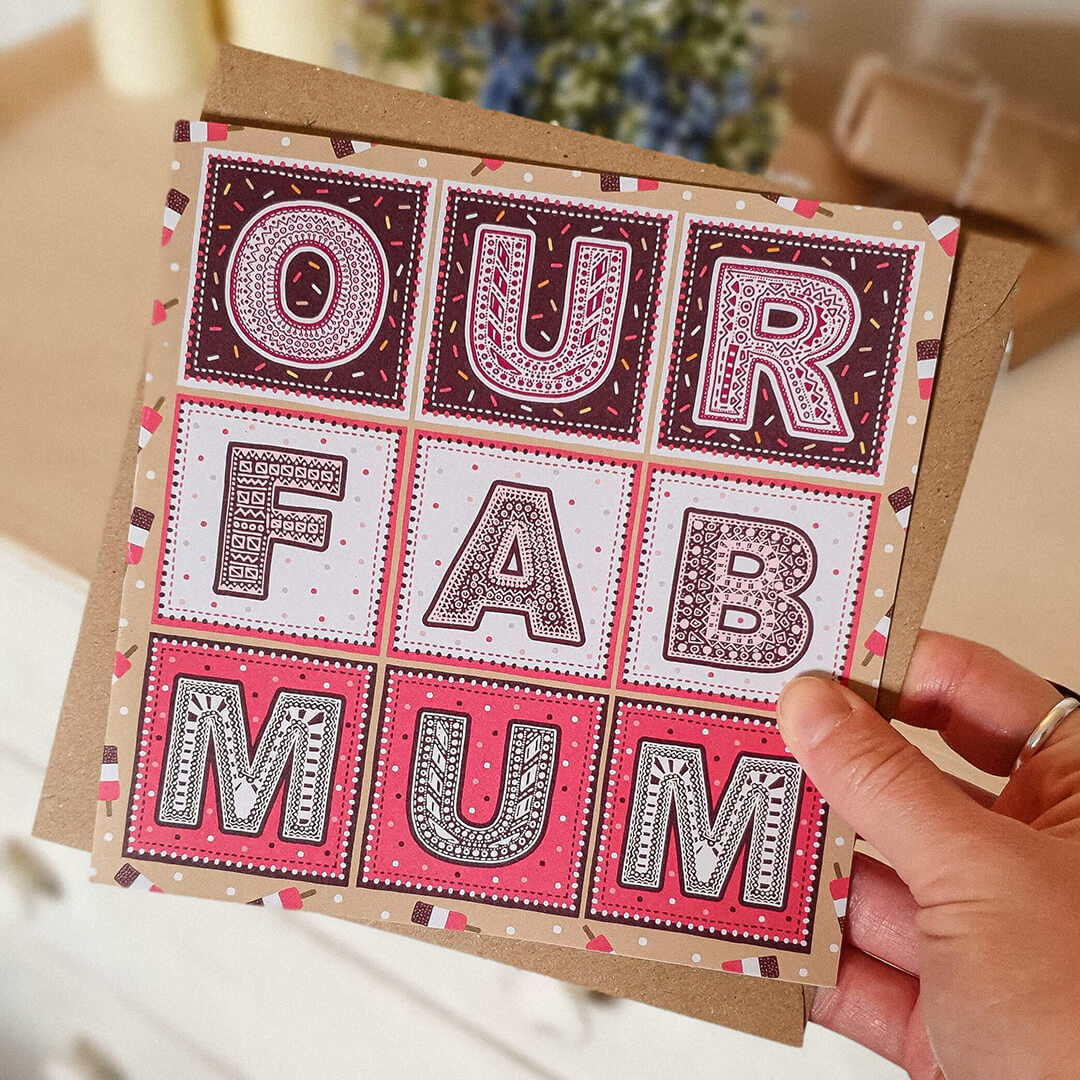 Shipping

All orders are dispatched within 1-3 working days and are sent Royal Mail First Class as standard.

Orders under £10 have a £0.50 delivery charge added at checkout.

Orders over £10 include FREE First Class delivery.

Offers

Use these codes at checkout to save yourself some pennies and make stocking up for upcoming events even easier!

3 cards for £10 - Use code 3FOR10

5 cards for £15 - Use code 5FOR15

10 cards for £25 - Use code 10FOR25