Turquoise Illustrated Easter Bunny Card
Regular price
Sale price
£3.50 GBP
Unit price
per
Sale
Sold out
About this Easter Bunny Card
One of the loveliest things about this time of year is the change in nature. All the plants and flowers blooming, and nature coming alive with hedgerows and fields full of wonderful creatures and birds. And of course, you might even be lucky enough to see the white bottom of a wild rabbit bounding through the fields! Could it be the Easter Bunny? If you have friends and family who love the wildlife and plants at this time of year, they will love this turquoise illustrated Easter Bunny card, featuring folk-art inspired illustrations of a hopping rabbit, alongside plants and foliage, to help celebrate this special time of year. 
Jess A Little Creative cards are made to help bring you closer to your loved ones. The greeting card designs are all drawn by Jess from her home studio in Cheltenham, where she ensures every design is unique and striking, and will be something your loved ones will want to treasure. This Easter Bunny card is no different! It can be framed and displayed every Easter for years to come, to remind your loved ones of the beautiful card you gave them, and help them celebrate this gorgeous time of year, by celebrating the wildlife and animals that thrive in the Spring. Your nature-loving friends will massively appreciate the thought you put into choosing such a well-suited card for them this Easter.
Want this Easter Bunny card as part of an Easter card multipack?
You may have lots of people you want to send Easter Bunny cards to this year, so do check out the Build Your Own Easter Card Multipack, where you can mix and match from all the unique Easter cards on the website to create your own Easter card multipack! These multipacks come in varying sizes, from 3 cards to 20 cards, and will save you up to 40% off the price of buying the cards individually depending on how many cards you order.
Easter Bunny card design
The design of this turquoise illustrated Easter Bunny card is inspired by folk art, and the wonderful wildlife and nature that come alive during the Spring. The design sits on a rich, turquoise background, and is framed by a white dashed-line border. Within the border, the centre of the card features an adorable jumping rabbit illustration, in a lighter shade of turquoise, decorated with hand-drawn flowers and embellishments, to give it a folk art inspired feel. Surrounding the jumping rabbit, are illustrations of different types of plants and foliage, in deeper shades of turquoise. In the bottom left corner of the card, the message 'Happy Easter' is written in hand-crafted white lettering. The whole background is covered in little hand-drawn dots, blue and yellow flowers and green leaves, to add extra pattern and detail to the Easter Bunny card. It is a real celebration of the wonderful Spring-time wildlife that we must protect. 
Packaging and materials
This turquoise illustrated Easter Bunny card is a celebration of the nature and wildlife that thrive at this time of year, and Jess A Little Creative does all it can to protect the environment through the choice of sustainable, and plastic-free materials. This Easter Bunny card is printed on recycled, FSC certified card, that is fully recyclable, and has a lovely matte, tactile feel of pure quality - the card is super thick! The card comes with a recycled kraft brown envelope. These are then packaged in a biodegradable clear sleeve made from vegetable starch, which is completely plastic-free, and can be disposed of in your food waste bin, or on your compost heap at home. And for every order placed on the website, a tree will be planted via Ecologi.
Product details
Blank inside

Card measures 148mm x 105mm

Printed on 350gsm FSC certified recycled card

Supplied with a recycled kraft brown envelope

Packaged plastic-free in a clear compostable sleeve, made from vegetable starch

Designed and printed in the UK

Shipped in a secure and sturdy board-backed envelope
© Jess A Little Creative, all rights reserved.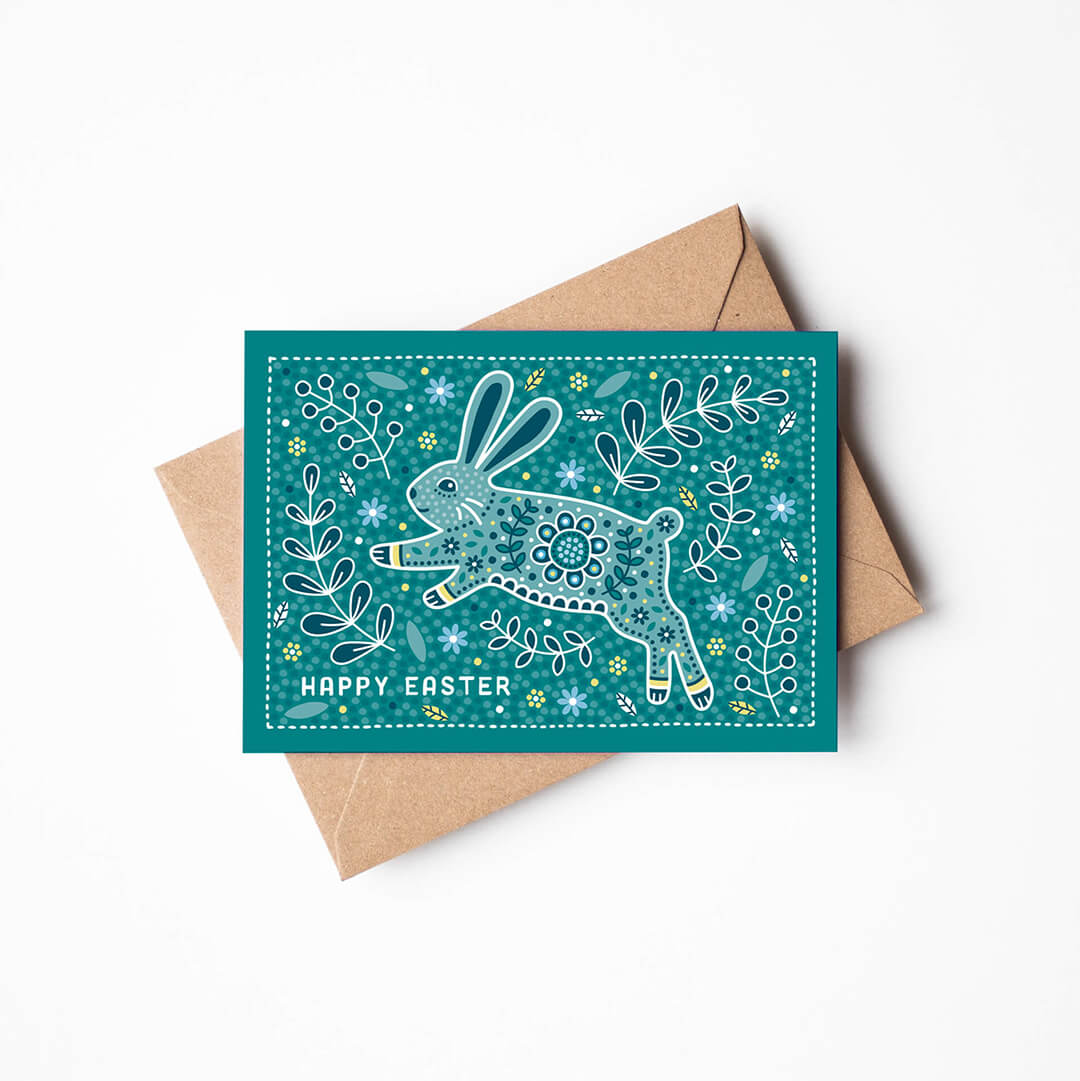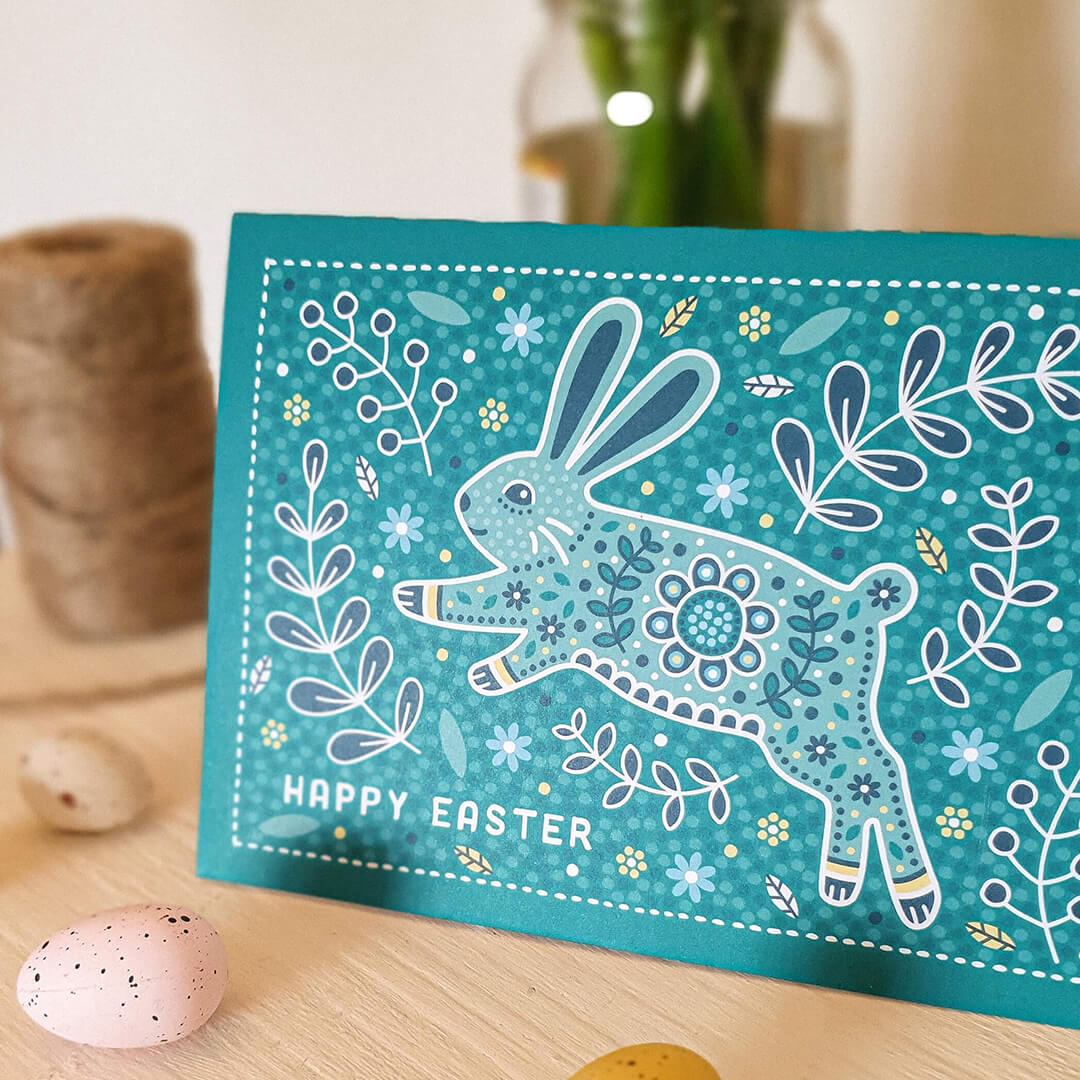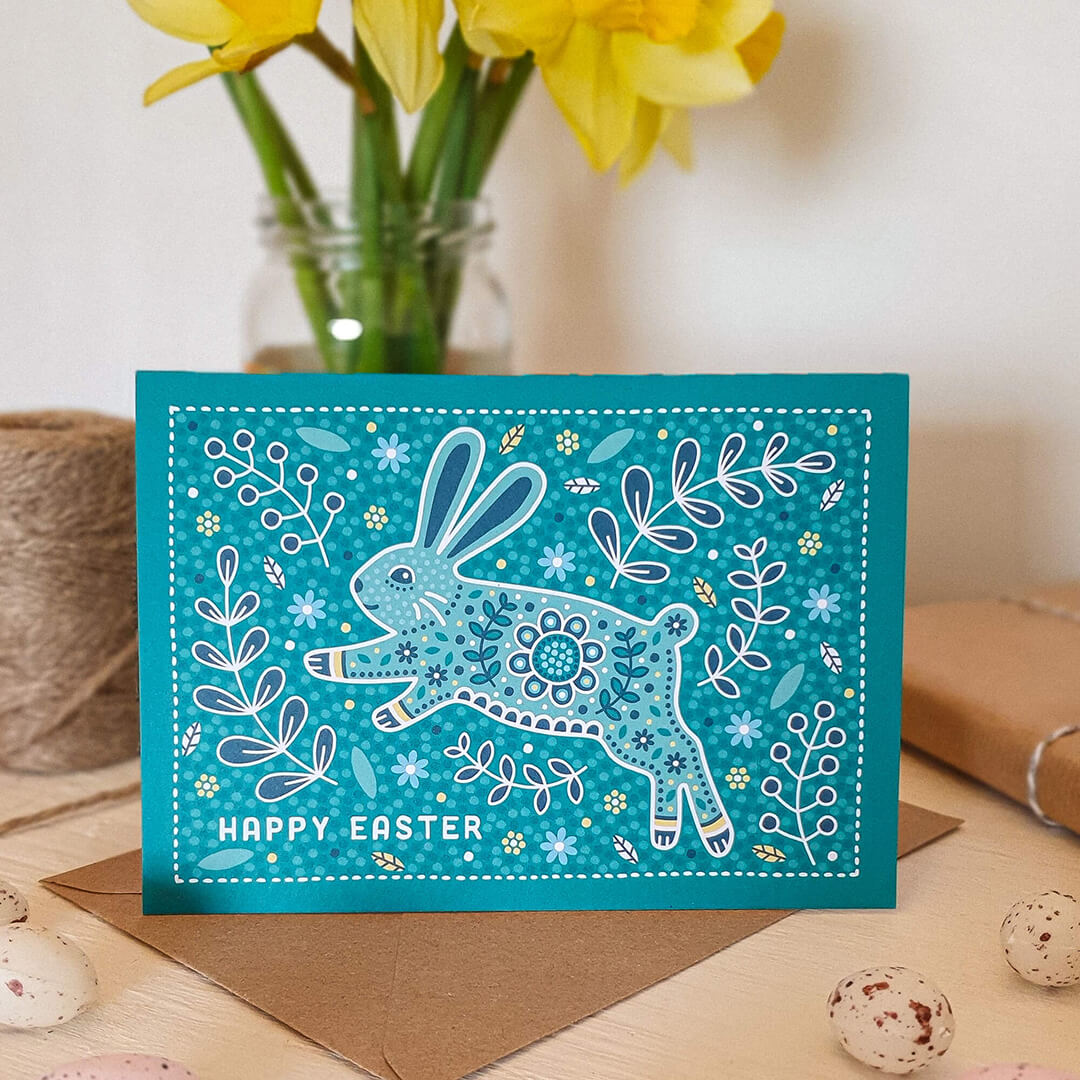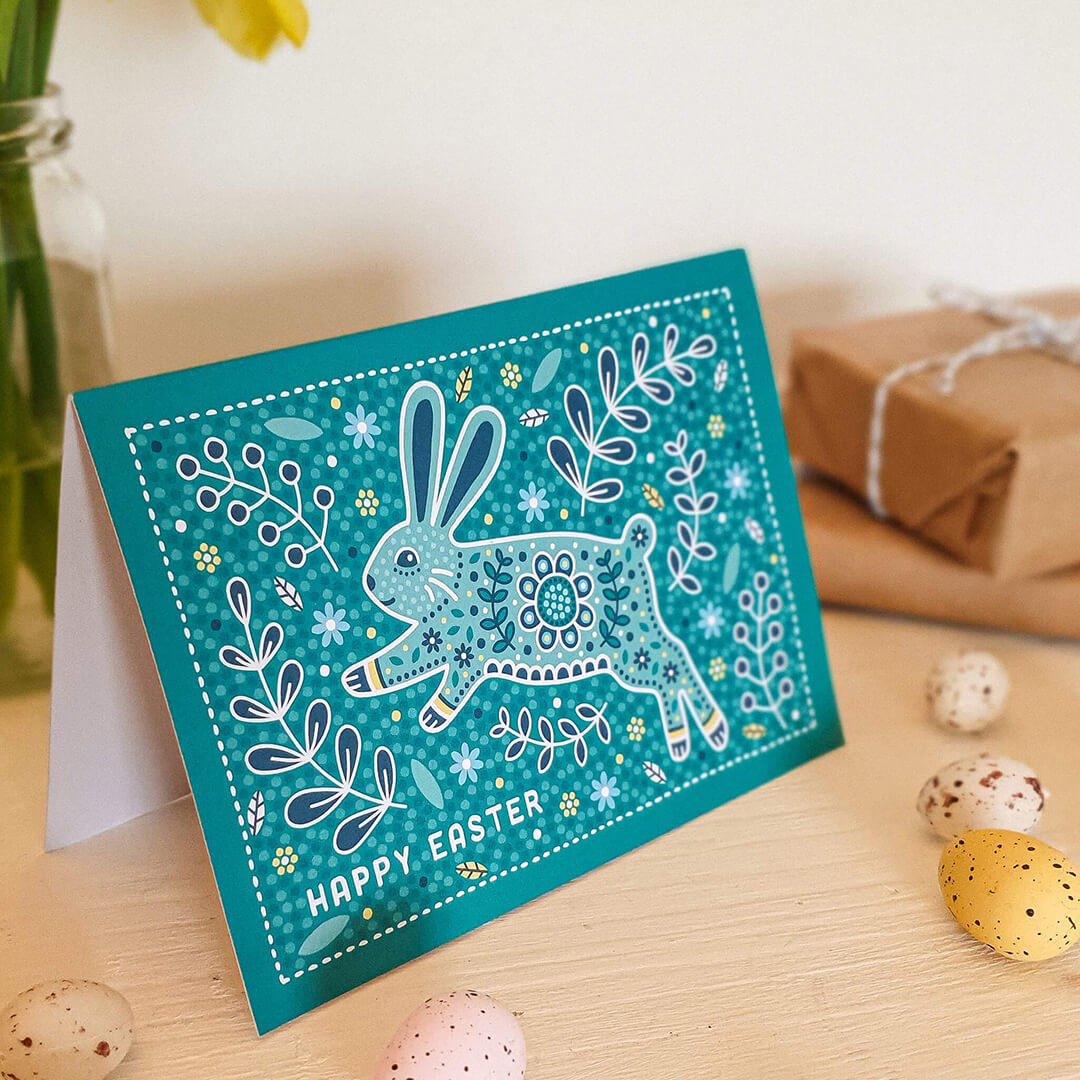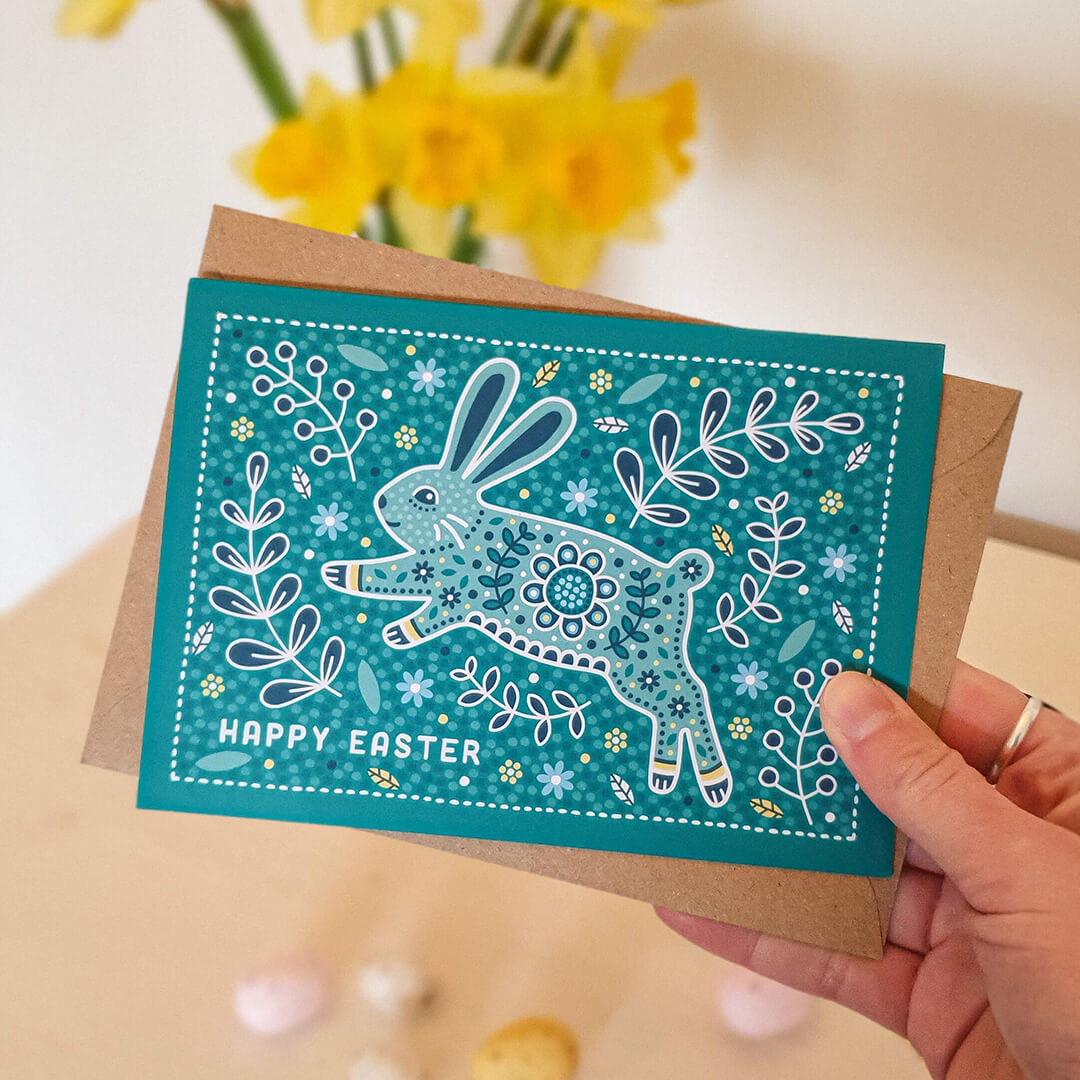 Shipping

All orders are dispatched within 1-3 working days and are sent Royal Mail First Class as standard.

Orders under £10 have a £0.50 delivery charge added at checkout.

Orders over £10 include FREE First Class delivery.

Offers

Use these codes at checkout to save yourself some pennies and make stocking up for upcoming events even easier!

3 cards for £10 - Use code 3FOR10

5 cards for £15 - Use code 5FOR15

10 cards for £25 - Use code 10FOR25