Bring On The Cake Birthday Card
Regular price
Sale price
£3.50 GBP
Unit price
per
Sale
Sold out
About this Cake Birthday Card
Help your loved ones celebrate their special birthdays, with this fun and unique cake birthday card! Birthday cake takes centre stage at many birthday celebrations, so why not extend the theme with a unique cake birthday card? Your baking-obsessed friends and foodie relatives will love the extra personal touch of a card encapsulating everything they love… CAKE! Nothing says birthday more than having cake for breakfast, lunch and dinner, and indulging in that second slice, guilt-free, to celebrate your special day!
You can't beat the feeling of knowing you absolutely nailed your friend's birthday card and gift. You got them something they will really love, that is incredibly thoughtful, and personal to them. And that is what you get from Jess A Little Creative cards. Completely unique in their appearance, your friend will realise how much thought and love went into the selection. Help them feel super special and loved on their birthday, with a unique and special cake birthday card from Jess A Little Creative. All card designs are drawn and created by Jess, in her home studio in Cheltenham. Connecting loved ones, and helping them celebrate life's special moments, is what drives Jess to create these unique and beautiful greeting cards.
This unique birthday card is printed on thick, matte, uncoated, FSC certified card. The card has a smooth texture, and non-shiny appearance. Due to the recycled nature of the card, it sometimes has a subtle flecked appearance. It comes in a compostable sleeve made from vegetable starch to protect it during transit, which can be disposed of on your compost heap or in your food waste bin at home. It's also supplied with a recycled kraft brown envelope, to keep it safe and secure before your loved ones open it.
This cake birthday card design sits on a dusty, peachy pink background. There are 4 hand-drawn cream squares in a grid, each containing a highly patterned hand-drawn letter, spelling out the word CAKE. In the centre there is smaller hand-drawn text spelling the words 'Bring On The' in cream lettering, so the entire birthday card design reads 'Bring On The Cake'. Each letter's background square features lots of intricate, detailed, dot and line illustrations in creams, pinks, reds and golds, to look like hundreds and thousands you would find on a birthday cake. Around the border of this unique birthday card, there are cute cupcake and birthday cake slice illustrations. The birthday card is blank inside, for your own personal, special birthday message to your loved one.
Product details
Blank inside

Card measures 150mm x 150mm

Printed on 300gsm FSC certified card

Supplied with a recycled kraft brown envelope

Packaged plastic-free, in a clear compostable sleeve, made from vegetable starch

Designed and printed in the UK

Shipped in a secure and sturdy board-backed envelope
© Jess A Little Creative, all rights reserved.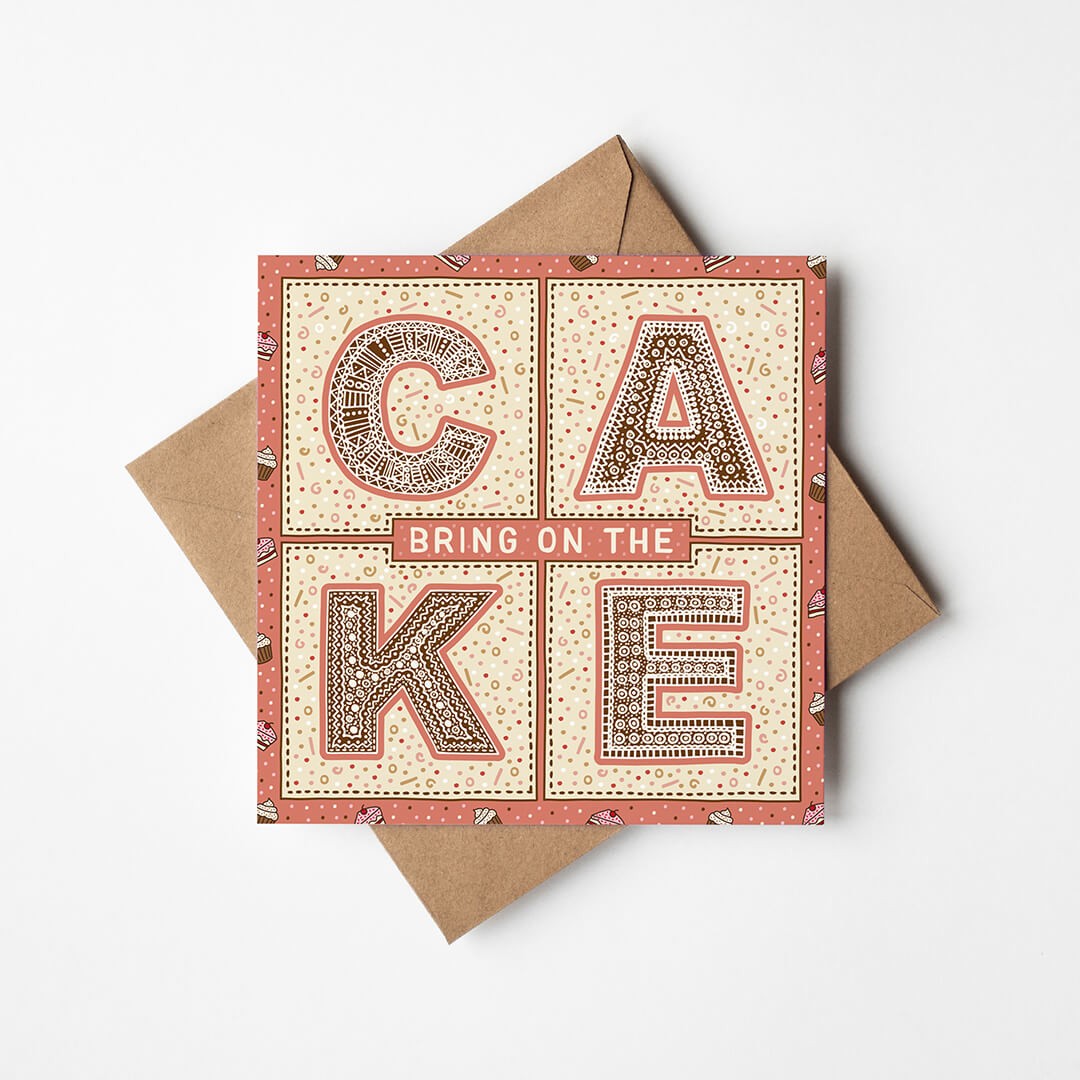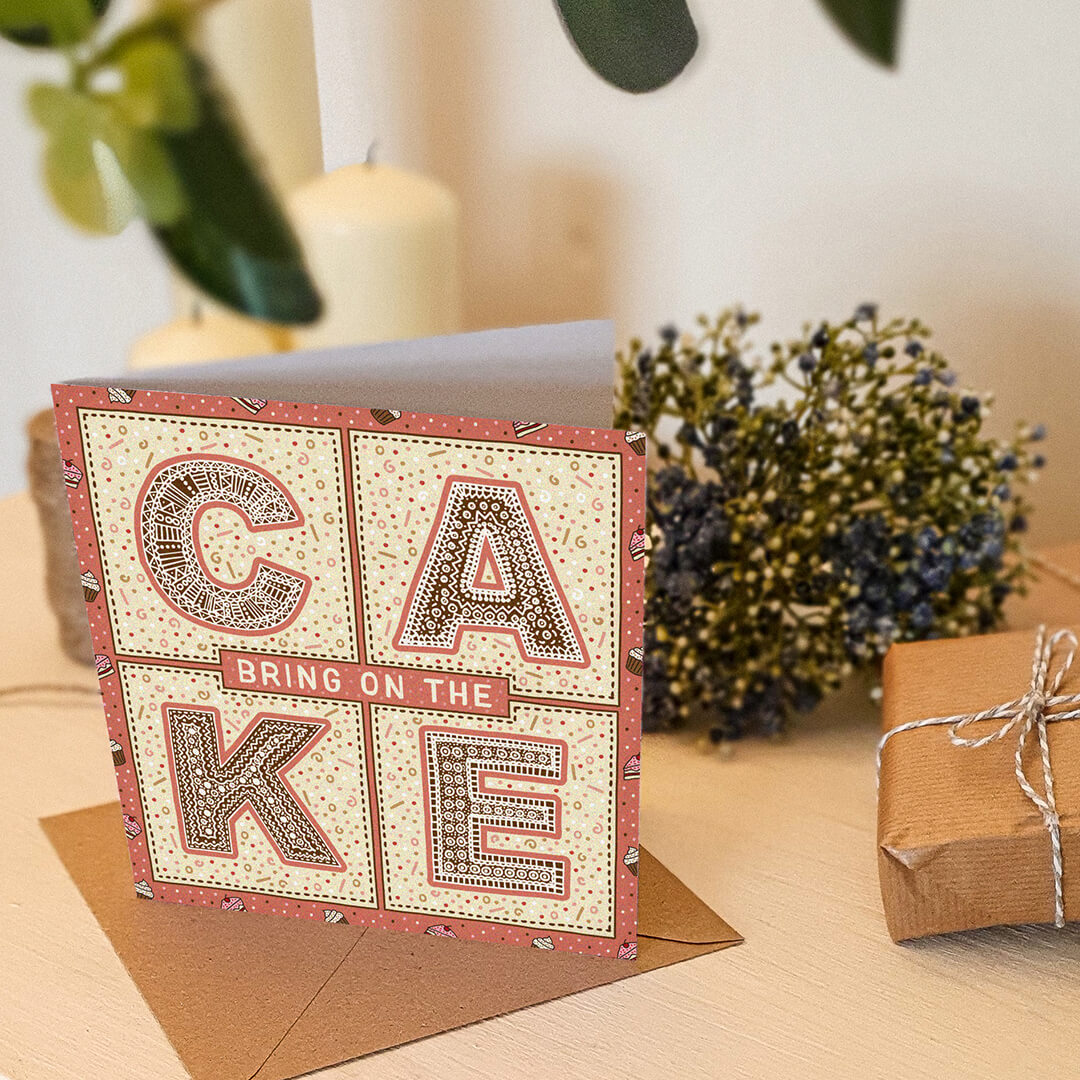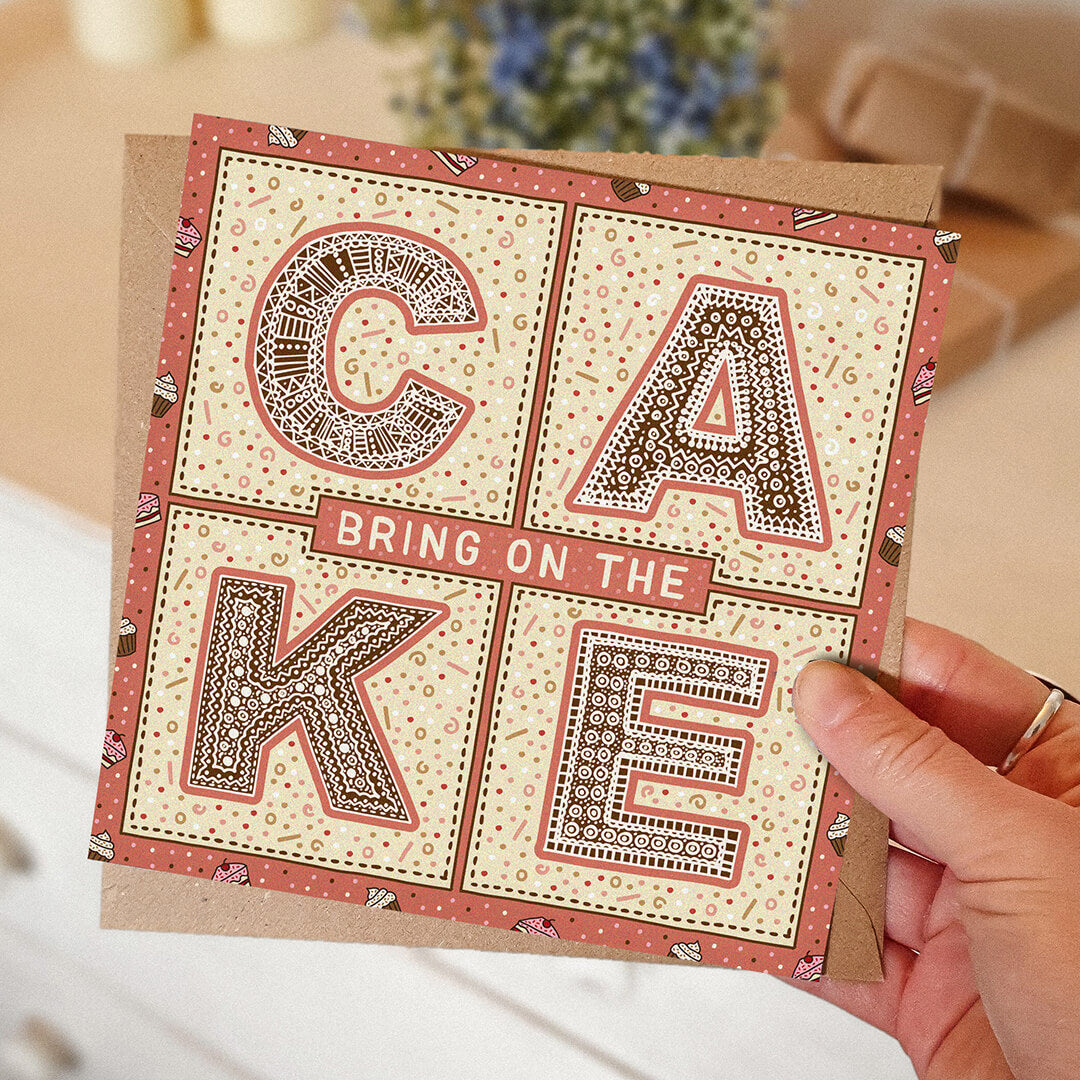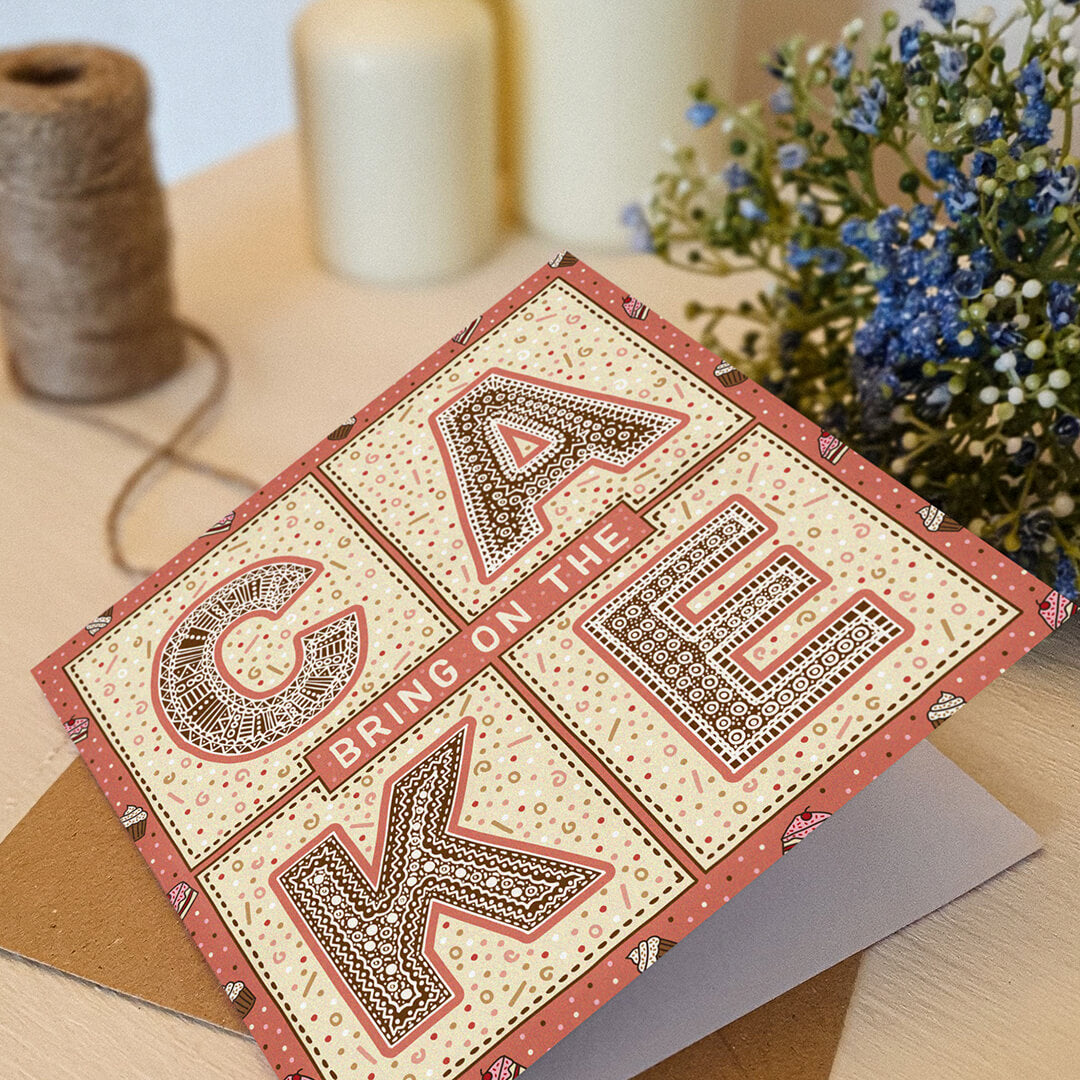 Shipping

All orders are dispatched within 1-3 working days and are sent Royal Mail First Class as standard.

Orders under £10 have a £0.50 delivery charge added at checkout.

Orders over £10 include FREE First Class delivery.

Offers

Use these codes at checkout to save yourself some pennies and make stocking up for upcoming events even easier!

3 cards for £10 - Use code 3FOR10

5 cards for £15 - Use code 5FOR15

10 cards for £25 - Use code 10FOR25
One of my favourite go-to cards!
Love this card and its becoming very popular in my family!
Fun
I loved my cake birthday card, the quality and design is so quirky and fun
Jess' cards are awesome!
I love sending Jess a Little Creative cards for every occasion because they are so eye catching and so unique! They feel so much more personal than a generic birthday card and they always look so amazing.
A card of joy!
Such a good quality card and with such a fun and joyful design.
Great
Such a wonderful design, great quality …. Spot on