Snow Christmas Card
Regular price
Sale price
£3.50 GBP
Unit price
per
Sale
Sold out
About this Snow Christmas Card
There is nothing quite like cosying up in front of a warm fire on a December night and watching the snow gently fall and gather around the window frames. You can bring this magical feeling into your loved ones' homes this Christmas with this unique Snow Christmas card. Because let's be honest, what are the chances of us actually having a white Christmas?! Bring the white Christmas directly to the ones you love with this unique Christmas card.
Jess A Little Creative cards are all about bringing you closer to your loved ones, with unique and beautiful greeting cards. And what better time to do this than at Christmas. Reconnect with those you have been away from this year, send messages of love and thanks to those who have supported you all year, and celebrate in the festivities with those who mean the most. Jess draws and designs all her unique greeting cards from her home studio in Cheltenham, to help you connect and celebrate Christmas with your friends and family.
Want this Snow Christmas card as a multipack?
Christmas looks very different for everyone. The Build Your Own Christmas Card Multipack is a great option, to customise your Christmas cards so they are perfect for YOU. You can pick your favourites, ensure your friends and family will all receive a card they love, and you can buy exactly the amount of Christmas cards you need without any waste. Visit the Build Your Own Christmas Card Multipack page to begin building your multipack, or read this blog to learn more about it.
Snow Christmas card design
This unique Snow Christmas card uses a beautiful colour palette made up of different shades of blue and white. The design consists of 4 hand-drawn squares, each containing a highly patterned, intricate hand-drawn letter, spelling out the word 'SNOW'. Each square contains hand-drawn circle and dot illustrations surrounding each letter to look like a falling flurry of snow against a midnight blue sky. The dots and circles gather at the bottom of each square, giving the illusion of the 4 squares being a window, and snow gathering around the edges of the window frames. The background of each square is a deep midnight blue, and the hand-drawn letters contrast against this in shades of white and lighter blue. The whole Snow Christmas card design sits on a light blue background, with a border of hand-drawn white and blue dots to look like falling snow.
Packaging and materials
This unique Christmas card is printed on a beautiful thick, uncoated card. The card used is FSC certified and recycled, making the Christmas card as eco-friendly as possible. It has a matte finish, making it beautifully smooth and easy to write your Christmas message on. The thickness of the card means it will display proudly in your friends and family's homes without falling over or looking flimsy. It is blank inside for you to write a special, personal Christmas message.
It is supplied with a recycled kraft brown envelope, and packaged in a compostable clear sleeve made from vegetable starch (which can be disposed of on your compost heap or in your food waste caddy at home). Every order is plastic-free, and made entirely from recycled and recyclable materials. In addition, for every order placed on the website, one tree is planted thanks to our lovely friends at Ecologi who Jess A Little Creative partners with. 
The compostable clear sleeve gives your Christmas cards an extra layer of protection to ensure they arrive on your doorstep in perfect condition. Orders of 5 Christmas cards or less are sent in a board-backed envelope secured with paper parcel tape (plastic-free, of course). Orders of 6 Christmas cards or more are wrapped in black tissue paper and sent in a brown cardboard postal box thin enough to fit through your letterbox. Oodles of care and love go into every order here at Jess A Little Creative.
Product details
Blank inside

Card measures 140mm x 140mm

Printed on 350gsm FSC certified recycled card

Supplied with a recycled kraft brown envelope

Packaged plastic-free in a clear compostable sleeve, made from vegetable starch

Designed and printed in the UK

Shipped in a secure and sturdy board-backed envelope
© Jess A Little Creative, all rights reserved.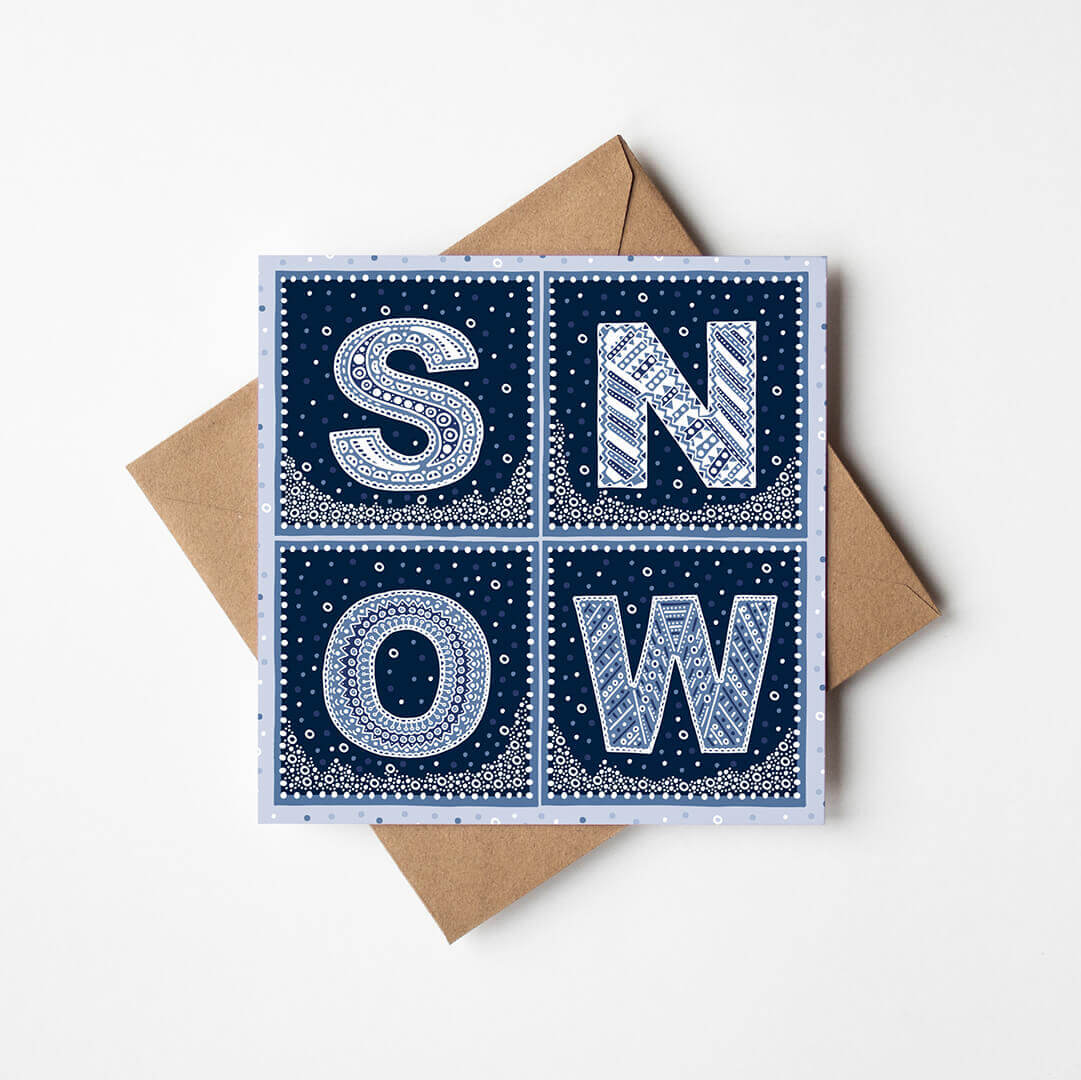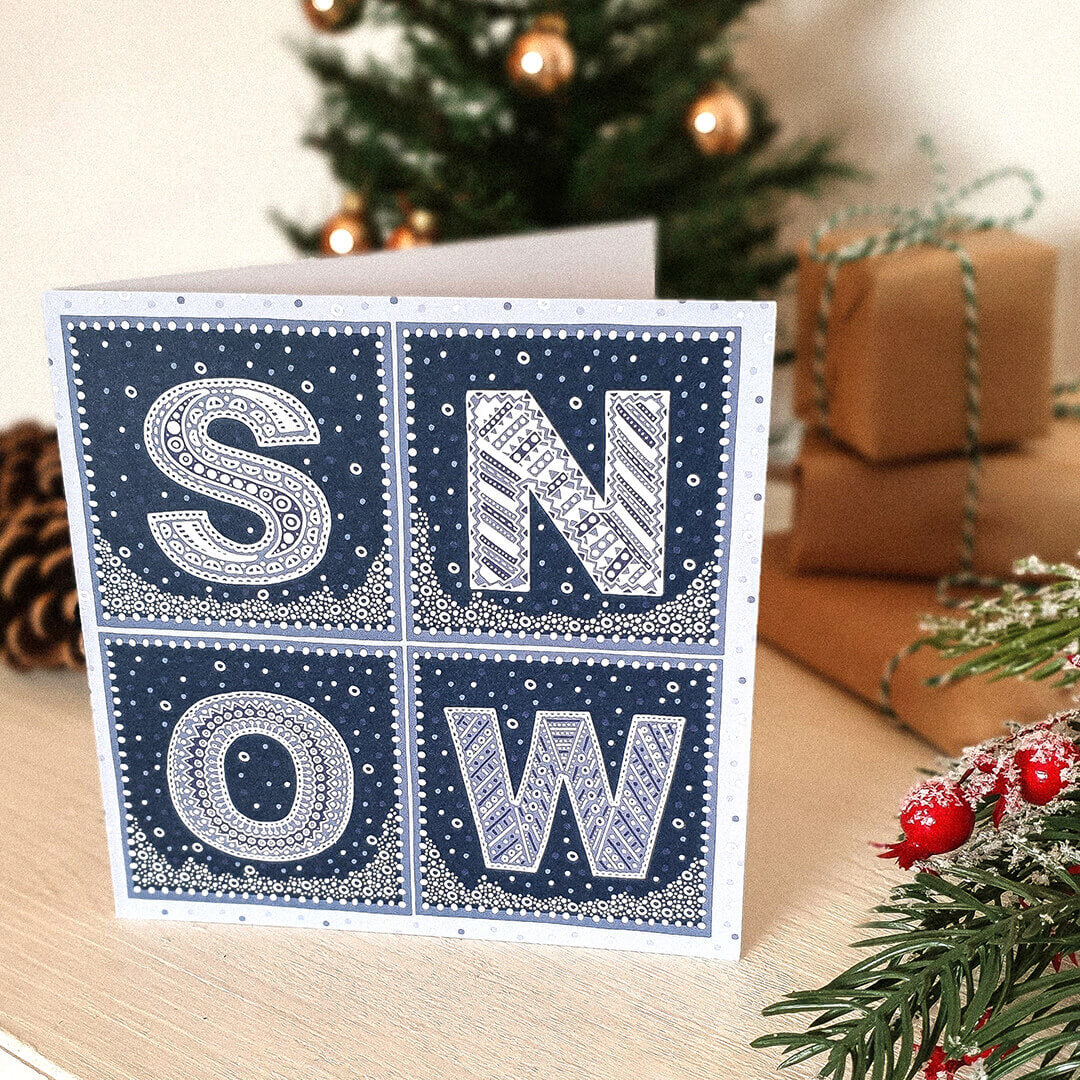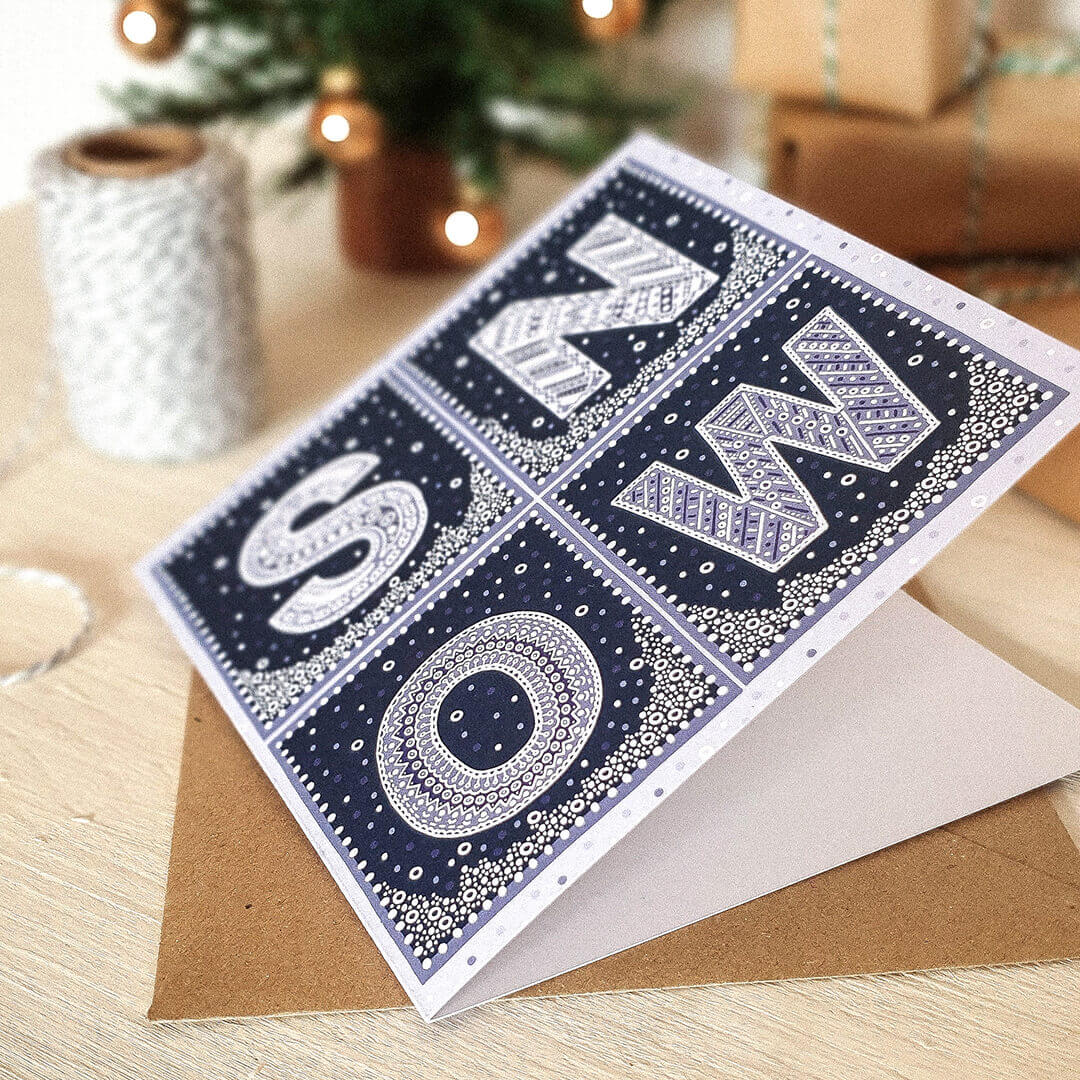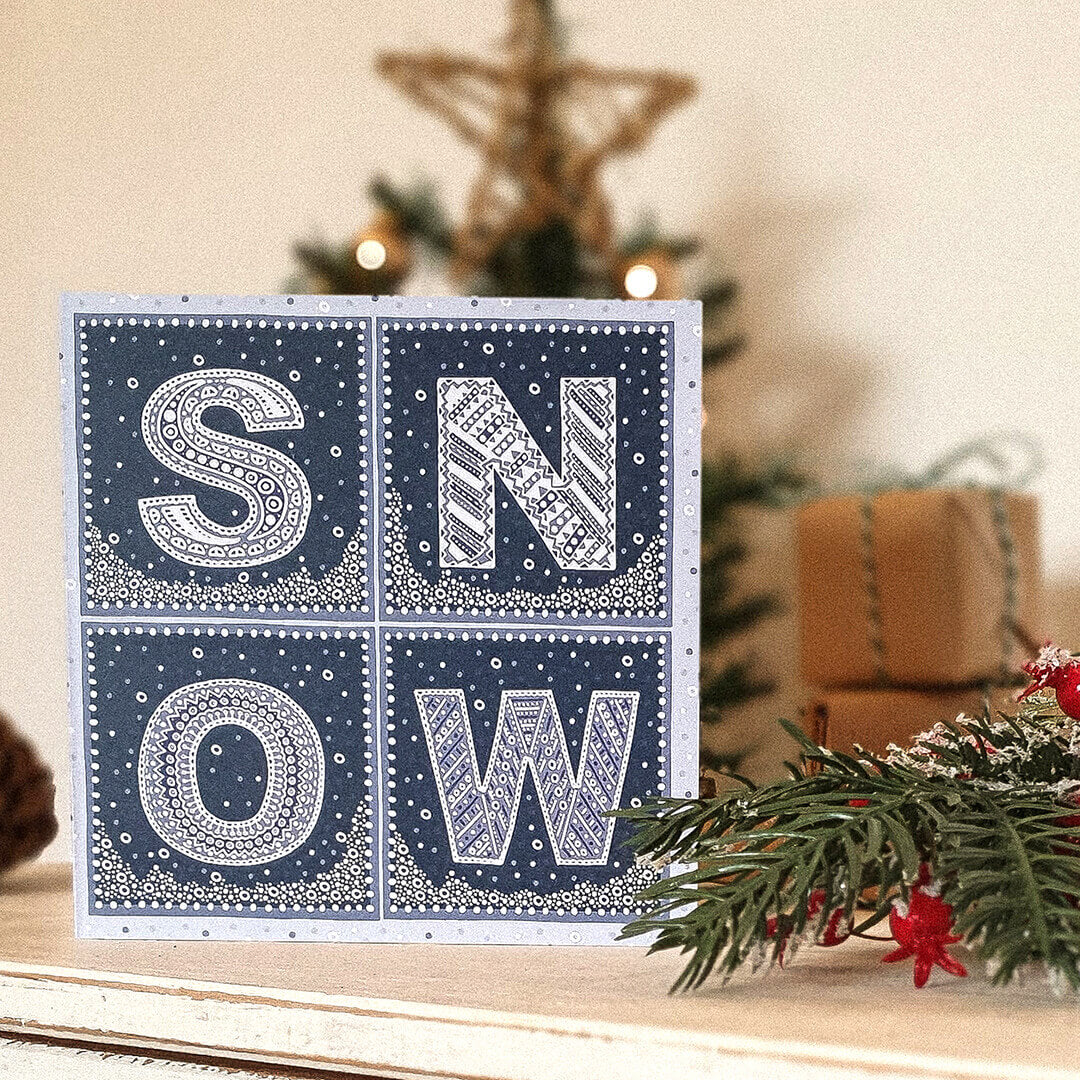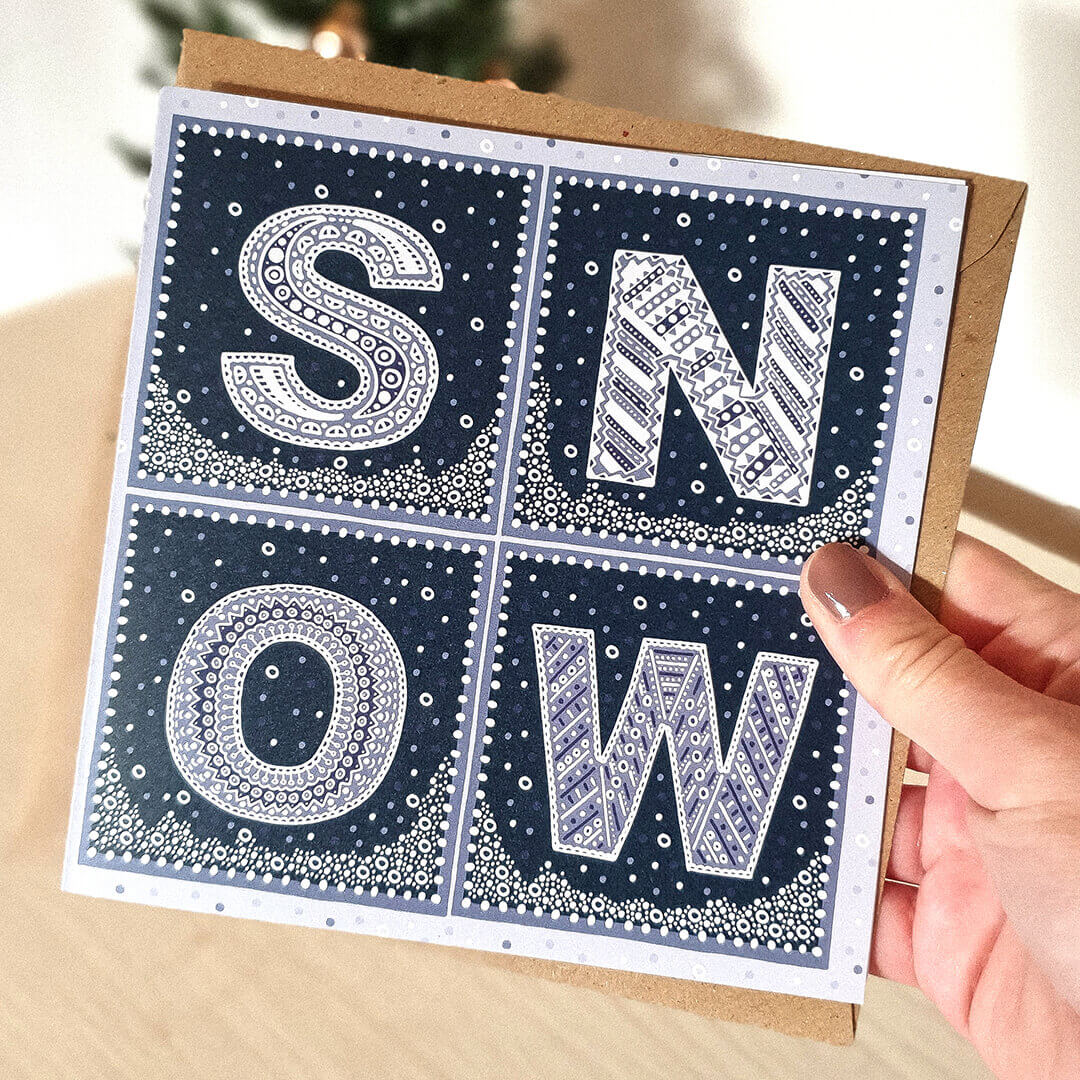 Shipping

All orders are dispatched within 1-3 working days and are sent Royal Mail First Class as standard.

Orders under £10 have a £0.50 delivery charge added at checkout.

Orders over £10 include FREE First Class delivery.

Offers

Use these codes at checkout to save yourself some pennies and make stocking up for upcoming events even easier!

3 cards for £10 - Use code 3FOR10

5 cards for £15 - Use code 5FOR15

10 cards for £25 - Use code 10FOR25